What we offer
We understand the common challenges many businesses face. Our work starts with you: your needs, your expectations and your customer loyalty program.
Over the years, the founders of Yoonify have worked with everyone from small start-ups to financial industry giants to help them identify unique opportunities and recognize core goals and objectives.
Loyalty Solution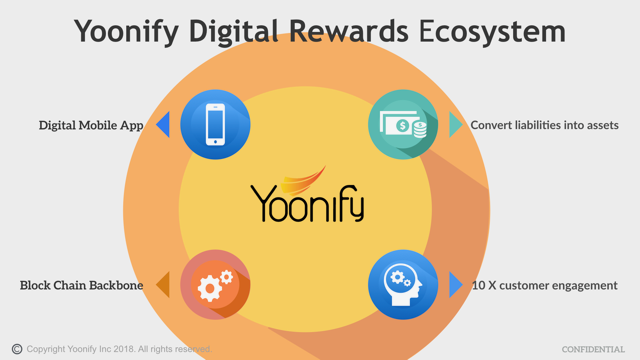 Yoonify's solutions are designed to go way beyond accepting payments and help you attract new customers and increase sales revenues. Every customer today wants a personalized experience when engaging with your business. Yoonify's Loyalty Solution elevates customer engagement that you can quantify and monitor when delivering relevant customer experiences. This sophisticated platform provides you opportunities to create loyalty campaigns with measurable outcomes to promote the products and categories you select.
Payment Solution
Our team can help you meet your business needs with secure, sophisticated payment processing solutions to create better ways for you to serve your customer. Whether your company is a small e-commerce business or a complex, multinational corporation, we will customize a secure solution to help you serve your customers and meet your bottom line goals. Our innovative payment processing solutions utilize our patented technology to help you get your perfect system up and running, all the while providing you the customer support you need.
We provide secure payment solutions on various platforms to suit your business needs:
1
SMS powered payment solution
1. Want that coke from the vending machine? Just send a text from your phone and it will pop out.
2. Need to park? No need to walk to a vending machine to get a ticket. Just send a text from your phone and parking is take care of. Need to extend your parking time? Get an auto alert. Respond yes and your parking is extended remotely – no need to walk back to your car…continue with your meeting knowing that Yoonify is taking care of your mini payments.
2
Web powered payment solution
1. Need a checkout payment solution for your online web store? Yoonify's web payment interface integrates seamlessly with your web store so you can start accepting payments within minutes.
3
EMV Card payment solution
1. Yoonify's flag ship payment cards come pre-configured to accept payments with the highly secure EMV platform.
2. Get custom designed cards that are right just for you.
4
Multi-platform aggregate payment solution
1. Yoonify's aggregate solution integrates disparate payment platforms to give you and your customers a seamless payment experience no matter which issuer your customer chooses.
5
Co-branded multi-purpose EMV card service
1. Yoonify's premium product converts your payment card to a wallet with infinite possibilities that go way beyond making payments.
2. Unlimited opportunities for merchants to engage customers and delight them with an unparalleled personalized experience.
3. Yoonify elevates your loyalty program to the next level of personalized service to create customers for life.
Markets
Technology
Yoonify understands the ever-changing landscape and the complex set of challenges that your organization is facing. With rising competition for each new product, let us create a payment and loyalty solution that matches the innovation of your product and differentiates you in the market.
Consumer goods
In the U.S. alone, the consumer goods market was estimated at $437.8 billion, based on 2015 U.S. Bureau of Labor Statistics (BLS) data. Yoonify will support your company and your market to provide you with the right payment and loyalty solution to help you grow your bottom line in this burgeoning environment.
Banking
Yoonify understands the challenges that banks and financial institutions are facing in finding convenient, secure payment solutions for customers. Between regulatory pressures, tighter markets, and ever-escalating security needs, Yoonify will help you offer your customers a unique solution that will elevate their payment processing and store loyalty to the next level.
Retail
This is an area where the customer expects the highest level of convenience and efficiency. Our high-tech, customer-friendly payment solution for retailers is an amazing market disrupter and is leading the way as a groundbreaking retail industry solution.
We are happy to meet with you and your team to provide a demonstration of our solutions based on your business requirements.